Filter
All
Planning
Offsets
Ecology
Species expert reports
Under the NSW Government's 'Biodiversity Assessment Method', where the required targeted surveys for threatened species cannot be completed (including where land access is restricted) an expert report prepared by an approved species expert can be used. To be recognised as a species expert ecologists must demonstrate evidence that they are a well-known authority on the relevant species. Ecoplanning Senior Ecologist Brian Towle is an approved species expert for six orchid species and has prepared numerous expert reports for NSW Government infrastructure projects.
Kangaroo population assessments
Ecoplanning have been conducting kangaroo population and density assessments, and kangaroo impact assessment on vegetation, soil surface and EPBC Act listed TECs in southern NSW and northern Victoria at selected sites since 2018.  Kangaroo population and density estimates have been calculated in the program Distance, and based on walked line transect data.  Floristic data from grazed and ungrazed plots have been compared statistically to observe trends between treatments and over time.  Further transects surveyed to record species assemblage are used to determine the extent of EPBC Act listed TECs and ground cover composition and soil crust integrity.  All data and reports are used to inform land management actions.
West Dapto Urban Release Area (WDURA) – Biocertification
The WDURA is located within the WCC Local Government Area (LGA), and includes the suburbs of Kembla Grange, Wongawilli, Horsley, Huntley, Cleveland, Penrose, Avondale, Yallah and Marshall Mount. The WDURA has been identified as a state significant housing release area for the Illawarra, with the WDURA likely to provide 19,500 dwellings, with associated town centres and infrastructure.
Biodiversity certification of the WDURA is being sought by WCC to balance the competing development and conservation objectives within the WDURA. Biodiversity certification can only be 'conferred' where the proposal 'improves and maintains' biodiversity values. The Biodiversity Certification Assessment Methodology (BCAM) (DECCW 2011) provides a repeatable and consistent approach to measure whether a proposal meets the 'improve or maintain' standard. It does this by assessing the impacts of the proposed development, whilst also measuring potential gains to biodiversity from conservation measures that are to be applied to areas set aside from development and protected and managed for conservation.
A large body of survey and assessment work was completed within the WDURA to progress a biodiversity certification outcome consistent with the BCAM, including a site scale vegetation map, capture of vegetation plots consistent with the BioMetric field method (DEC 2008) and completion of targeted threatened species survey.
The land proposed for biodiversity certification covers a range of proposed development lands within the WDURA, including a mix of residential, business, industrial and recreation zones. Land proposed for conservation measures includes areas of recent environmental zoning and some existing Council owned reserves.
Maguires Road, Maraylya three lot subdivision – Biodiversity Development Assessment Report (BDAR) and Vegetation Management Plan (VMP)
Ecoplanning recently completed a BDAR for a small three lot subdivision on Maguires Road, Maraylya, NSW. The site contained several constraints including threatened species and intact native vegetation. Very careful consideration of the vegetation was required to confirm the absence of threatened ecological communities. The heavily vegetated site required a comprehensive bushfire assessment and Ecoplanning prepared a supporting Vegetation Management Plan to balance the needs of the ecological values with the asset protection requirements. Ecoplanning provided clear and concise planning advice to our client, allowing them to demonstrate the avoidance and minimisation of impacts as well as understanding the potential offset liabilities associated with various subdivision and building envelope layouts.
Proposed Data Centre, Huntingwood
A proposal to construct a data centre in Huntingwood triggered the Biodiversity Offset Scheme due to it being State Significant Development.  Ecoplanning was engaged to undertake the ecological assessment.  We conducted a staged approach to the assessment, initially preparing an ecological constraints assessment (ECA), which helped our client design the development to avoid and minimise impacts to ecological values at the site.  Once a site plan was prepared sensitive to these values, a Biodiversity Development Assessment Report was prepared to address the residual site impacts, and a Flora and Fauna Management Plan was prepared for the retained vegetation and waterways in accordance with the Huntingwood Precinct DCP.
ARTC – Inland Rail biodiversity offsets
At Ecoplanning, we have been fortunate to be working with the ARTC to locate, source and generate biodiversity offsets for the inland rail, connecting Melbourne and Brisbane via regional Victoria, New South Wales and Queensland. Our work on this project stems back to 2017, where we worked with AMEC Foster Wheel (now Wood PLC), and consequently with Cardno (now Stantec), as biodiversity offsets specialists identifying properties with appropriate biodiversity values, undertaking field survey and preparing Biodiversity Stewardship Agreements on private land, allowing for offsetting of the impacts of the rail on native biodiversity.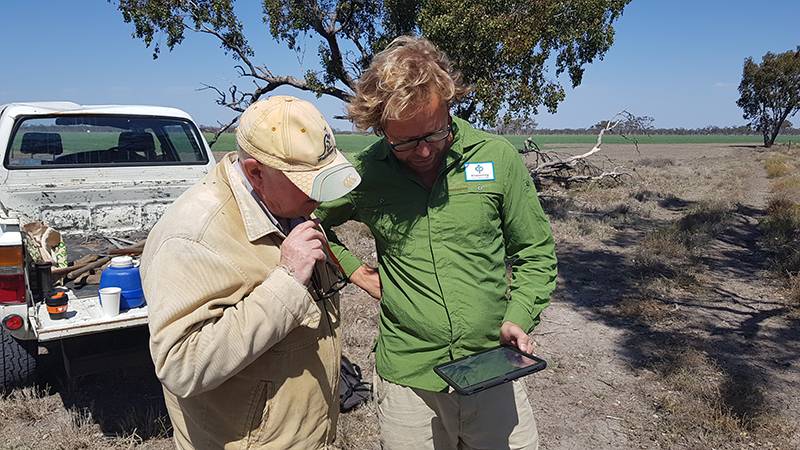 Biodiversity Stewardship Feasibility Assessment (BSFA), Menangle.
Landholders who are considering the merits of entering into a Biodiversity Stewardship Agreement regularly engage Ecoplanning to prepare a Biodiversity Stewardship Feasibility Assessment (BSFA). Ecoplanning recently prepared one of these reports for a landholder in Menangle. The BSFA validates vegetation mapping, collects data in BAM plots and calculates the Vegetation Integrity scores to determine likely credit generation potential of the property in the BAM calculator. In addition, Ecoplanning estimates the potential Total Fund Deposit required for site management and provides a review of current trading prices for the PCTs identified on the property. This enables the landholder to create a business case as to whether entering into a Biodiversity Stewardship Agreement is practical and financially feasible.
Speak with One of Our Experienced Consultants Today
Contact Us